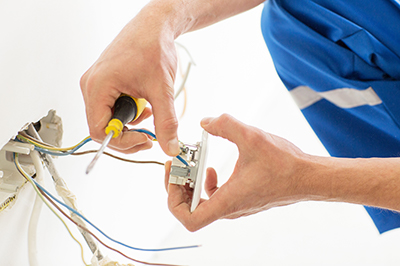 You rely on the electricity in your home on a daily basis, for a wide range of things. When it's not working properly or there's a problem, it's going to be a major disruption—not to mention a potential hazard. As full-service residential electrical contractors in Bunker Hill, IL we are able to take on any and all residential electrical work in the area. We are fully licensed and insured, and we will not leave until you are completely satisfied.
Turney's Heating & Cooling, Electrical & Plumbing is proud to have years of hands-on experience as an electrical contractor in Bunker Hill, IL and can provide you with the critical services you need to keep the power flowing perfectly in your home. From general electrical woes to specific wiring for installations and repairs, our electricians are able to offer our customers complete peace of mind. Some of our core services include:
Electrical installation: Whether you are a developer or a homeowner building your dream house, let us assist you with the electrical installation.  Turney's is the only team of electricians you need to get the job done right.  No job is too big or too small for our experienced crew.
Electrical repairs: Do you keep tripping a breaker? Is power flowing intermittently to an area of your home? Are you consistently experiencing outages? We're able to provide you with a wide range of repair capabilities, to ensure your electrical is functioning as it was meant to.
Electrical upgrade: When the time comes to retrofit old wiring or install brand new electrical in your home, trust our experienced electricians in Bunker Hill, IL. We provide only superior workmanship, done to the highest standards of safety, to ensure this vital system in your home is perfect from top to bottom.
Interior lighting: Proper lighting is one of the cornerstones of any happy, well functioning home. When you hire Turney's Heating & Cooling, Electrical & Plumbing for the job, we will work hard to make your exact vision a reality.
Interior remodel: Remodel jobs can be messy, complicated and very unpredictable. With that kind of project, you want someone in your corner you can always rely on for solid work and strong expertise. Turney's Heating & Cooling, Electrical & Plumbing is proud to provide that for homeowners in Bunker Hill, Royal Lakes, Dorsey, Woodburn, and Wilsonville, IL and surrounding areas.
If you are looking for a dependable, affordable, friendly and experienced electrical contractor in Bunker Hill, IL, you need look no further than Turney's Heating & Cooling, Electrical & Plumbing.
Contact us today
For more information about our electricians' capabilities in regards to electrical work or to inquire about your unique needs, please contact us today by calling 618-585-6410.
Proudly offering HVAC repair and generator repair to the following areas:
Alton, IL
Bethalto, IL
Brighton, IL
Bunker Hill, IL
Carlinville, IL
Edwardsville, IL
Godfrey, IL
Holiday Shores, IL
Jerseyville, IL
Wood River, IL and More