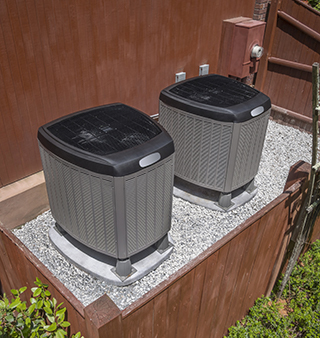 Your heating and cooling systems are essential to maintaining a high quality of life in your home all year round. If you're not able to get cool air in the summer and heat in the winter, you're not going to be comfortable—it's as simple as that!
Services Plan Request Service Request Bid
When it comes to HVAC repair in Bunker Hill, IL, don't take any chances when things aren't functioning perfectly: choose Turney's Heating & Cooling, Electrical & Plumbing for all of your routine maintenance and emergency service needs. We strive to make sure your heating, air conditioning and ventilation systems are working at peak efficiency at a reasonable cost.
As the leading provider of HVAC repair in Bunker Hill, IL, we're pleased to offer a wide variety of services designed to meet your home's exact needs, including:
A/C service: Whether you need seasonal startup or shut down services, refrigeration levels checked or just a tune-up, we're here to help! We specialize in providing routine maintenance for your A/C unit, as well as service to get it back into full working order if it begins to falter.
A/C installation: Building the home of your dreams? Let us make sure it's being cooled to perfection with a brand new A/C installation! We offer some of the best name brands in the industry, installed to full working perfection by our highly trained team.
A/C upgrade: Need to replace your existing unit with something more modern, efficient and functional? Our extensive knowledge of all major brands and models allows us to help you figure out the perfect fit for your home and budget.
Duct cleaning: From dust and dirt, to pet dander and lint, to mildew and even mold growth, there could be all types of histamines and allergens lurking in your ductwork! We can thoroughly clean your ducts to ensure a superior air quality throughout your home.
Furnace service: From filters to pilot lights, blowers and beyond, we're able to service every aspect of your furnace to help it maintain top functionality and efficiency. When the cold weather arrives, you'll have peace of mind in your furnace with our team on your side.
Furnace installation: For your new home construction project, we're pleased to provide full installations for new furnace units, so that it's ready to heat your home from day one. No matter the furnace type or the layout of the home, we guarantee a job well done.
Furnace upgrade: Out with the old and in with the new! We're able to provide furnace upgrades to you that meet the demands of your home. Whether you're looking for a feature-rich installation or something with supreme energy savings, we can help.
Brands We Know
When it comes to providing superior HVAC repair and installations, it pays to trust brands that have a proven record of superiority. That's why we're proud to work with some of the very best brand names in the industry, including:
Aprilaire
Comfortmaker
Delta
Mansfield
AO Smith
Kohler
Navien
Rheem
Smith
Contact Us Today
Don't trust just any HVAC or electrical contractors in Bunker Hill, Royal Lakes, Dorsey, Woodburn, andor Wilsonville, IL to deliver service and repairs to your heating and air systems—always call Turney's Heating & Cooling, Electrical & Plumbing! Our knowledgeable experts, quality approach and fair prices are second to none! Contact us today at 618-585-6410 for a free estimate on service.
Proudly offering heating, cooling, electrical, plumbing services, and generator services to the following areas:
Alton, IL
Bethalto, IL
Brighton, IL
Bunker Hill, IL
Carlinville, IL
Edwardsville, IL
Godfrey, IL
Holiday Shores, IL
Jerseyville, IL
Wood River, IL and More